Electronics technology trading company that offers one-stop solutions for customer's needs. Various devices, system development and all supports in the worldwide basis.


Proposing the "optimal solution" by sharing issues and needs
Our group's mission is to deepen communication with our customers, to accurately assess issues and needs related to electronics, and to quickly provide precise solutions That is, Tokai Electronics is a one-stop partner for electronics. In addition to procurement and supply of electronic devices such as electronic materials, components and semiconductors, we also provide one-stop support for customer issues such as system construction and software development and maintenance.
One-Stop Solutions of Tokai Electronics
Through the strong collaboration between devices and systems, we provide total support for customer electronics.
Proposal of business model

Device solutions

Sharing Information, Product procurement, Proposals, Development and design, Import and Export

System solutions

System integration, System development, Design / Implementation,Mmaintenance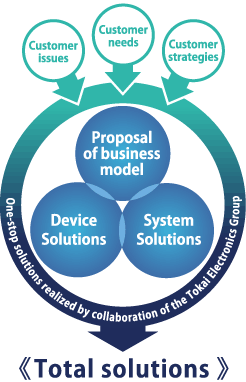 World-wide one-stop solutions
Tokai Electronics possesses wide network both Japan domestically and overseas. We have prepared a system that gives total support in accordance with the growth of our customers' businesses. We can even support our customer's advancement of business overseas. In addition to total support from devices to systems, our group can also develop one-stop solutions on a global scale. This is a major advantage of Tokai Electronics.